"We have to dare to be ourselves, however frightening or strange that self may prove to be."—Mary Sarton, author & poet
NEW AT DARING INK PRESS


Mommy is a Worrywart, a humorous look at motherly fears, available now in independent bookstores, boutiques and online stores everywhere.
Learn More.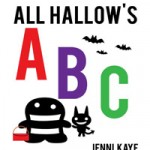 All Hallow's ABC, a fun and spooky romp through the alphabet, is now available. Jenni Kaye's debut book, a first for the press, is "a must…. While it's Halloween themed, it's not too scary for the little ones" said Elle Davis of ThisisMommyhood.com.
Learn More.

NEWS & REVIEWS
All Hallow's ABC won a Bronze Medal in the Alphabet/Counting Books Category at the Moonbeam Children's Book Awards!
Get the News.

All Hallow's ABC has a new book trailer.
Learn More.