WHERE TO ORDER

Daring Ink Press books can be found at Independent Booksellers and Boutiques, as well as Amazon.com, BN.com, and Kobo.
Check out our Ebook store at Tomely.
To order print books directly from the publisher (no minimum necessary), please contact Jen at jen at daringinkpress dot com.

ETSY STORE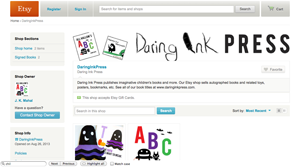 Signed books, related toys, posters, bookmarks and more are available at the Daring Ink Press Etsy store.